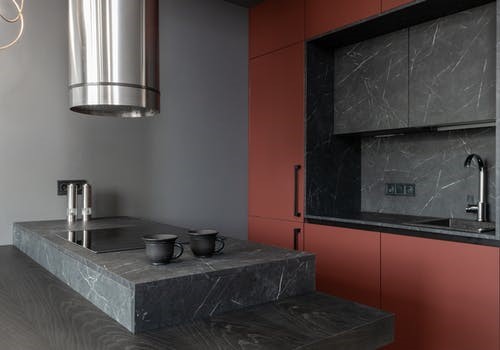 How do you treat your soapstone countertops? This is the typical question that everyone seeks to maintain and clean the soapstone kitchen countertops. There are few steps that you should take after the installation of the countertops. You first have to wait for 24 hours to let it settle then you can brush off the surface then wipe it down by using a good coat of mineral oil.
As the soapstone is used in different capacities there are chances to take immediate action and proper care is also an important aspect to enjoy the use of these countertops for many years.
There are many ways in which you can take care of your soapstone countertops. We've listed some of the top ideas for the countertops to help you out.
General Care
Maintaining your Soupstone countertop is extremely simple. You can easily clean it by using mild soap and water. However, if you think that mineral oil would be better on the surface then you must have to avoid harsh chemicals and cleaners as they could tend to undo the process.
Mineral Oil
The soapstone countertops are generally darkened with time. But, the use of mineral oil will provide the best impact on the surface of the countertops with a steady speed up. Mineral oil works naturally on dark countertops. Therefore, before applying it you should remember to apply a cloth rag and buff it into the surface.
And when you notice that the countertops are starting to lighten up then you need to reapply the mineral oil is usually between 1 to 3 months. And once you do this process over 10-12 months then applying mineral oil won't be necessary for further.
Beeswax and Linseed
Another alternate step that you can take instead of mineral oil would be a mixture of beeswax and linseed as they help in enhancing the color of soapstone naturally. Only a single coat of this mixture can easily replace the multiple application of applied mineral oil. You can simply apply it with a cloth for few hours and then wipe it out. The one application of the mixture of beeswax and linseed should be sufficient to clean your soapstone countertops.
Scratches
The problem of minor scratches in the countertops can be easily removed by using mild sandpaper. If in case, you've already applied mineral oil on the surface of the countertops then you've to reapply it in the scratches area after you've finished sanding the countertop.
If there are deeper scratches on your countertop then you're advised to use 120-grit sandpaper in a circular motion followed up by water and 220-grit sandpaper to remove the remaining scratches sign. However, if you want to gives a touch-up on that area to bring back its color then you can again apply mineral oil to the countertop's surface.
If doing so makes it uneasy, you can also contact a natural stone professional to work on it and to handle this problem with care.
Conclusion
You must remember that the mineral oil or the mixture of beeswax and linseed both are optional treatments.
The regular cleaning of the countertop's surface can make your soapstone counters look great in appearance for many years.