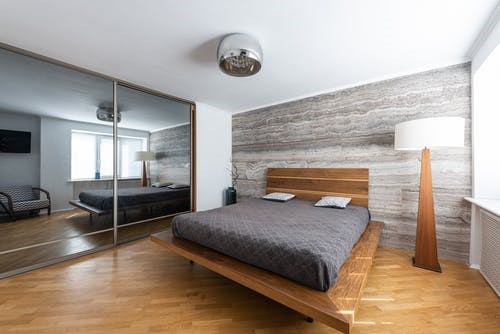 Tired up by looking at the home full of stuff? Every home needs more space, no matter how big or small they are! You can try some clever tricks and ideas to easily create an illusion of more space and make your home more spacious than ever before. You can start with ruthless and a good sort out. First, you can send the waste things that you don't use to the charity home, yard sales, or eBay. You can sell out the broken things of your home to the waste recycling center located in many areas in America. If you're looking for the best ideas for your home space enhancement, check out our latest tricks for your inspiration.
Corner Sofa is a Great Choice!
If you have a small sitting room, you can make it spacious by adding a corner, L-shaped, or chaise sofa as it offers ample space to your room while acting as a room divider. The L-shape sofa can double your seat occupancy with saving a lot of extra space as compared to the regular sofa and make your room feel more spacious and Stylist too.
Create the Illusion of Space
Another easiest trick to save space in a room is by Introducing mirrors. It doesn't create space but makes the illusion of it. If you add a reflective surface to a wall then it will appear like a window into an adjoining room and make your room feel more spacious with bouncing backlight around the room. It will not only make your room look bigger but also brighter.
Declutter with Storage Basket
Adding a basket is one of the best storage ideas for your living room. Many baskets come in different shapes and sizes with having a fabulous tactile quality that adds a character to the scheme. This is the pretty best idea to declutter your living area. You can go for the belly baskets that are on trend these days with numerous shapes and patterns available in the market.
Save Space with Wall Shelves
If there is a space issue at your home then the wall shelves will be ideal for the illusion of a bigger room. Wall shelves can turn the bare walls into an attractive functional storage area that makes your room look more classy and spacious. Wall shelves can become a piece of wall art also.
Store Belongings under the Stairs
Storing the extra things underneath the stairs can easily transform the untidy and empty space into an organized area. You can use pretty baskets and boxes to make the space look beautiful and perfect in its appearance. You can put your books, shoes, or toys over there without a door to conceal them. It can be very helpful in storing your extra accessories and making your room look more spacious.
Pull-out Trays will be the best
Pandemic has made work from home a usual thing, but not everyone has the extra room to convert into an office. If you also don't have a separate working space, simply install a sliding table somewhere in your house. You can get it install anywhere- living room, bedroom, or kitchen. Now, the only thing you need to do is, slide up the chair when you want to work and tuck away when you are done.
Conclusion
You can try all the ideas that we suggested to you to make your home look bigger and add more space. There are numerous shelves available in the market that can help you to store lots of things, or you can try a premium sofa or can include bespoke shelving to make your home look better and spacious.